How to Install Windows 11 ISO Insider Preview for Free on Laptop?
Although Windows 11 is not yet officially available for common users, but you can download and install the insider preview image and enjoy most of the features. To install this OS, you have to download the complete windows 11 setup and if you don't have the file, you can read the stepwise details here. 
Once the downloading process is completed you need to perform the clean installation of Windows 11 to avoid any problem and enjoy the trouble-free operations of this OS. And to complete the Windows 11 installation, you need to create a bootable USB thumb drive with Windows 11 ISO setup and follow the steps given below.  
Also Read: How to Download Windows 11 ISO File Free in Laptop from Microsoft
Steps to Install Windows 11 ISO Insider Preview:
Step1: First of insert a USB thumb drive into your PC and launch Rufusthat will detect the USB drive automatically. (Rufus is a utility that helps format and create bootable USB flash drives.)
Step2: Now click on "Select" and choose the Windows 11 ISO image you downloaded in the steps above.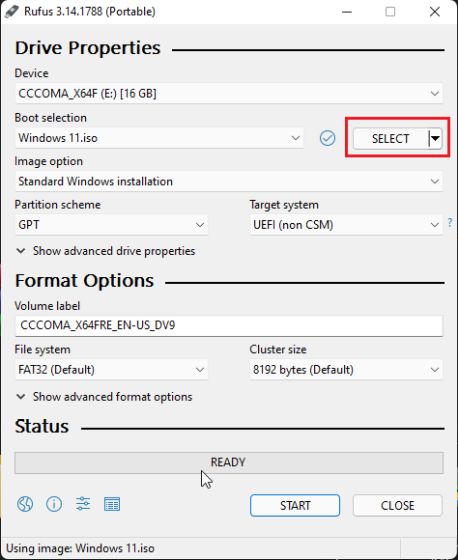 Step3: Here you need to keep everything as default and click on "Start" at the bottom.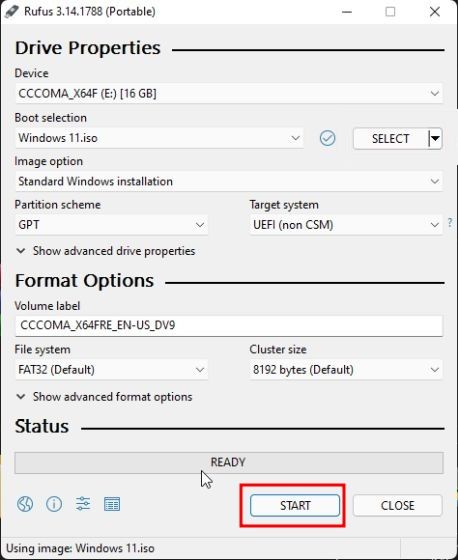 Step4: Now after the flashing process is done, close Rufus and restart your computer.
Step5: Wait here as your PC boots up, start pressing the boot key continuously.
Note: On HP laptops, pressing the "Esc" key during startup brings up the Startup menu. For other laptops and desktops, you will have to look for the boot key on the Internet. It should be one of these: F12, F9, F10, etc.
Step6: Now, just select the USB drive on which you flashed the Windows 11 ISO and hit Enter.
Step7: Here you need to boot into the Windows 11 installer setup.
Step8: Now click on "Next -> Install Now -> I don't have a product key -> Select edition -> Custom".
Step9: Here, select the partition where you want to install Windows 11 and click on the "Next" button. (Generally, it's the "C" drive).
Step10: And that's it. A fresh copy of Windows 11 will now be installed on your PC.
After the installation, your computer restarts, just unplug the USB thumb drive, and you will boot right into Windows 11's brand new onboarding (OOBE) setup. Now you can set up your Windows 11 Insider Preview running on your PC. And you will continue to receive Windows 11 Insider updates. Meanwhile, if you face any kind of technical problem just call at Windows customer support number for help.